Good Morning,
We are organizing in 2017 the biggest sport event in polish history – The World Games 2017.
The World Games 2017 is one of the World's biggest sports events. During 10 days 4 000 athletes compete in 31 disciplines on 26 sport venues.
The World Games 2017 is 10th edition of the event, which takes place every 4 years. Among the disciplines of the Games You can find e.g. bowling, squash, climbing, snooker, American football, speedway, etc.
To organize the event, we need over 1 000 volunteers. Their job will be to help us organize the competitions, logistics, assist the athletes, referees, media, VIP's, etc.
Volunteering in The World Games 2017 will be an unique opportunity to get the experience in organizing a big international sports event and meet the best athletes from all over the World.
The Games will take place from 20th to 30th of July, 2017 in Wrocław, Poland.
The volunteers will be provided with accommodation, alimentation, free public transportation in Wrocław and clothes.
Volunteers training will be mostly provided online, so there's no need for the abroad volunteers to come to Wrocław before the Games. The recruitment process will also be made online.
We would like to cooperate with you in promoting the volunteers program among your students.
I attached materials, which I'm kindly asking to share.
If you have any questions, do not hestitate to contact me J
Best regards
Olga Strugała
Specjalista ds. Wolontariatu
Wrocławski Komitet Organizacyjny -
Światowe Igrzyska Sportowe 2017 Sp. z o.o.
Volunteers Specialist
Wroclaw Organizing Committee -
The World Games 2017 Limited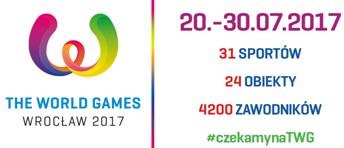 ul. Rynek 13, 50-101 Wrocław
NIP: 8971796827, REGON: 022358693